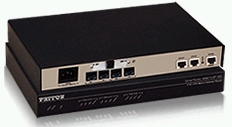 Patton SmartNode FXO gateways enable you to connect one or more existing analogue lines to a Cluana hosted phone system using a standard Ethernet port. This FXO gateway can transform a telephone protocol used by traditional analogue devices into a digital protocol for IP phones and headsets. It is therefore required in all those applications where a conversion between traditional analogue lines and digital IP lines is needed.

By using an FXO you will be able to provide a secure failover to analogue lines when using broadband based IP lines. This gateway is secure and stable and has been tested in hundreds of live networks for business applications.

Features:

Up to 4 FXO ports. Compact, reliable stand-alone VoIP gateway with different port options. Supports simultaneous voice calls on all ports.

Advanced Local Call Switching. Virtual interfaces and routing tables provide industry leading flexibility in call handling programming. Local call switching, soft fallback to alternative routes.

Complete SIP and T.38 support. Supports the complete range of industry standard VoIP: SIP, H.323, DTMF relay. Codecs G.729, G.723, etc.

Easy Management & Provisioning. Web-based management, SNMP, command line interface. Automated mass provisioning for efficient large-scale deployments.
---
HOW TO CONFIGURE THE GATEWAY
---
WHERE YOU CAN BUY

T: 01727 848186
E: info@voispeedltd.com
W: http://www.voispeedltd.co.uk/hw