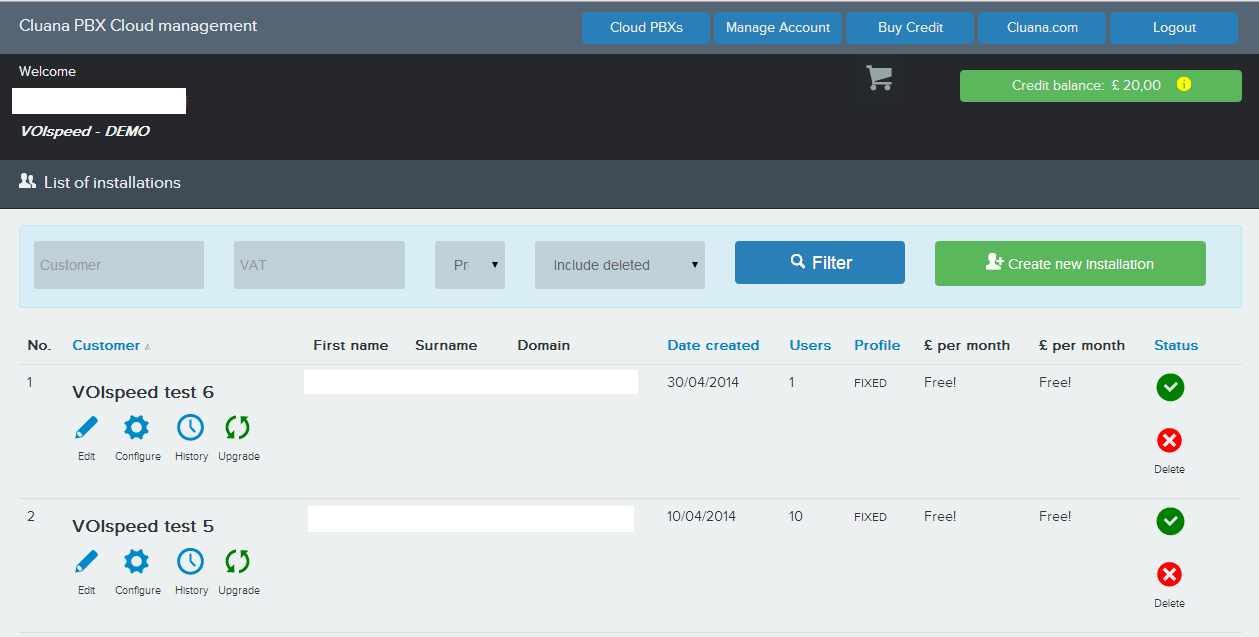 VOIspeed 6 uses a separate application to configure the PBX that communicates asynchronously with the core engine of the PBX. 
To login to the configuration of VOIspeed Cloud, simply login to your reserved area with your login credentials to manage the VOIspeed Cloud.  You will be able to see the list of installed PBX platform on the Cloud linked to your account.  To configure each PBX all you need to do is simply to click on the "Configure" icon.
MENU:
After clicking Once you have selected the company ( by clicking on the star symbol ) you will have access to all the features allowed ; below show an overview of the menu switchboard in an exploded view.

You can logout from the web interface by simply clicking on log out icon  at the top right corner of the page. 
See below the logout area fields description:
| | |
| --- | --- |
| | Shows the account name and surname of the user logged in. |
| Company | Indicates the company of the logged in user. If the user is logged in as a super administrator (with permission from all companies), then no company will be set, you can select the company to manage or configure by clicking on the link No company. If no company is selected then you will have to specify the company manually while doing configurations. |
| | Shows the current language for the web interface, you can select the current language by clicking on the flag. |
| | You can logout from the web interface by clicking on the Logout icon. |
 
Field
Description
Monitoring
Monitoring section for monitoring the calls, users and gateways.
Reports
Reports Section holds the call statistics.
Settings
Settings section for the configuration of the PBX.
Toolbox
Toolbox section is used for diagnostic, address book and information.